TOP 10 ENTERPRISE SECURITY SERVICES PROVIDER IN CANADA - 2023
Book Your FREE Consultation
Ready to tackle your tech issues head-on? Don't let IT challenges hold you back any longer. Take the first step toward seamless technology solutions by booking your FREE consultation with our expert team. Let's discuss your unique needs and find the perfect tech solutions for your business.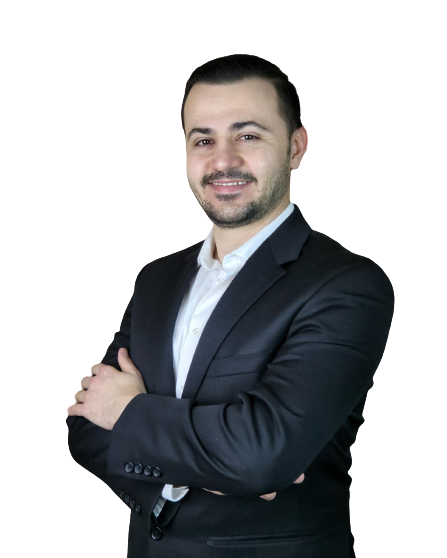 Ammar Nabod
CEO & Technology Strategist 
Myriad has been our IT service provider for the past 10 years. During that time they have initiated upgrades to workstations and servers that have made us almost trouble-free. They have done such a thorough job of preventative maintenance they are now rarely needed! We went from having a tech staff person working 25 hours a week to having external support from Myriad as needed, resulting in significant savings. Myriad responds quickly and effectively to any critical issues. They have designed our website and recently implemented our agency intranet. Myriad's commitment to their clients and to their community is evident in all they do.
Throughout our relationship, we have been treated with great and prompt service. Myriad does excellent work, and regardless of the difficulty of the request, they have never failed to find a solution. The biggest testament to their success as our I.T. firm is the fact that we seldom need to call them – our system works wonderfully, and generally the only reason for them to visit us is for assistance with new hardware, software, and website updates. We highly recommend Myriad to any fellow business owners, individuals, or organizations.
Myriad started working with us in the spring of 2004, at a time when our IT consultants were no longer providing us with an acceptable level of service. Myriad quickly familiarized themselves with our network and started the task of stabilizing our network. Myriad anticipated the impact changes to our network would make and, without our asking, ensured that a technician was present in the office the following day to immediately tend to any issues that arose. We remain pleased with Myriad's ability to respond to our calls in a timely manner. In fact, we cannot recall a single call where we have had to leave a message and await a call back. We have never felt uncomfortable in calling for support, nor have we been made to feel as though our concerns were unimportant or a call unwarranted. We appreciate the relationship we have developed with Myriad and look forward to many more years with Myriad as our service provider.
Myriad has been a reliable provider of IT support to Tourism Chilliwack for many years. Even though we have a small office, having a professional and knowledgeable company handling our hardware and software support needs has been very important in creating an efficient work environment for our staff. The expertise and knowledge at the Myriad Group of Companies also goes beyond just providing IT support. We have recently partnered with Myriad in the development of a new e-newsletter and a comprehensive website that promotes the sport fishing industry in our community. Many companies can design an attractive website, but we found the true value from Myriad to be with their ability to deliver a highly functional, and easily managed website. I would recommend Myriad to people interested in finding a company capable of providing a complete technology solution for their business."
Our company approached Myriad in August of last year as a possible alternative to our then service provider, we are a small company and have always outsourced services. Myriad came to us with a modest plan which covered all of our needs, they listened to what we needed and did not oversell us. I feel very confident having Myriad on our TEAM.
We want to thank you so very much for your generous donation. You have gone out of your way to offer support that is very prompt and always relationally based, this is so appreciated. Ammar, I really appreciate the way you have always gone the extra mile to meet MSA where we are at and to provide the services and support that will best suit our needs. Thank you.
I was pleasantly surprised when you called me within five minutes of me speaking with one of your technicians and telling him that I could not find the two computer icons on the left bottom corner and could not access my J: drive. Even better, when you were able to dispatch a technician to my house and he showed up within two hours. Renato exhibited professional mannerism from the time he entered my house. He wore his mask at all times and after some transferring of data, he was able to get me to sign-on my new 14 inches lap-top computer with a keyboard width span of 4.5 inches. When I signed in, I quickly realized that it would be very difficult for me to work on this lap-top for 7 hours a day. Renato offered to connect my laptop to mirror another monitor. He also hooked up a better keyboard, and connected the printer to my work laptop/computer. Furthermore, he made sure, I was able to log onto Outlook, Teams, and Zoom. When I thought Renato had covered all that I needed to work proficiently from home, he said he had a small last bit to do! Renato downloaded the "Assist" software on my computer so that if in future I had any technical issues, Myriad could solve it remotely. Renato demonstrated a holistic problem solving and excellent foresighted IT troubleshooting skills approach. Ammar: Congratulations to you as the leader and to your team on providing such great service. Thank you!!
Ammar is awesome! I have a hard time understanding anything IT related but Ammar is able to "dumb it down" and explain it in regular terms! Myriad is quick and I know if I have an emergency they will respond and help asap. Awesome Company!
Ammar and his team are simply the best in their field. They are professional, courteous and most of all competent in their field of work. We have dealt with a few tech companies at our pharmacy, however Myriad has far exceeded any other. Best in the industry, they deliver service the old fashioned way, in a timely manner and you feel that you are their only client. They literally drop everything when we have an emergency situation and help is immediately available. Ammar has sent several of his techs onsite to help and each of them are polite and professional. Myriad is highly highly recommended by us. We are a healthcare provider and need the highest level of service which is provided seamlessly by Ammar and his team. Thank goodness for Myriad. You have saved us countless times. Thank you very much for all your help.
I am really happy that I had a chance to work with the best IT team. I would like to thank Ammar for supporting me like a family member. The work environment at Myriad ITS is excellent and there is always something new to learn from Ammar and other team members.
Myriad ITS has been managing our computer and business needs for many years now. Ammar and his team are prompt, reliable, and very professional. I would highly recommend Myriad ITS to anyone in need of assistance with their computer systems.